Buy Betagen Topical Spray On Sale For the Best price!
Buy Betagen Topical Spray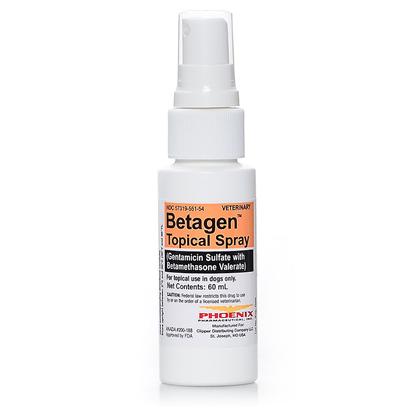 Betagen Topical Spray for Dogs
Betagen is a commonly prescribed topical spray for dogs to treat skin infections and hotspots that are caused by bacteria. This topical spray is not an over the counter medicine and requires a prescription from a licensed vet.
Betagen Topical Spray Customer Reviews & User Ratings
Betagen reviews say that this topical spray is a fairly effective medication for treating hotspots and bacterial skin infections in dogs. It is a prescription medication and many pet owners who used this spray have found a speedy recovery in their canines. Many say that it is easy to apply and the dogs don't create fuzz while using it. This drug is safe when taken under a vet's guidance and helps to calm down itching sensations commonly found while having skin infections. This is one of the best remedies available to treat hot spots, rashes and skin infections in dogs.
Betagen ointment is not currently available. However, you can find the alternate brand with the same ingredients as ointment formula. Few ointments include Vetromax, Tri-otic, Genta-calm etc.More Details »

Betagen Topical Spray For Dogs Hot Spots – Ingredients
Active Betagen Ingredients per/ml:
Gentamicin sulfate (antibiotic, 0.57 mg)
Betamethasone valerate (anti-inflammatory compound 0.284mg)
Isopropyl alcohol 163mg
Propylene glycol
Preservatives: methylparaben and propylparaben
Purified water and hydrochloric acid for ph balance
Betagen Topical Spray For Dogs Side Effects
In general, there are no serious side effects from using this topical spray. But it is not advisable to use this spray for long periods. Using it for longer periods will encourage the growth of fungi and yeasts around the wound. This spray is effective only against bacteria and other microorganisms are not affected. In rare cases, there are chances of weight loss, nausea, and vomiting. There are other cases reported where the dogs had an increased thirst and urination tendencies. This is due to the presence of corticosteroid named Betamethasone valerate as an active ingredient. But once you discontinue the medication all the symptoms will ease off. If you notice anything unusual then give a call to your veterinarian immediately.More Details »

Hotspots and rashes are pretty common in our canine friends as they have a habit of running around and getting in contact with skin irritants. This article is dedicated to how Betagen Topical Spray For Dogs Hot Spots can alleviate this condition.
Almost all the breeds are prone to such problems but in general thick and long-haired breeds are at high risk. Improper grooming and dirty coats can easily give rise to hotspots and rashes. Last time when I went to the vet for vaccinating my canine I saw a Lhasa Apso a long-haired breed dog. It was small in size and had matted hair I guess due to bad grooming. The reason why this Lhasa Apso had to visit the vet was; it had a small superficial lesion called as a hotspot in its front foot. I think it was irritating him a lot and he was kind of aggressive. Later I got busy with my canines appointment and didn't get to see what happened.
Do you know hotspots are pretty common and a number of dogs visit the vet clinic for the same reason every year? Read on to know all about hotspots and rashes in dogs and the best remedy to cure it.
About Hotspots
Treatments For Hotspots In Dogs
What is Betagen Topical Spray For Dogs Ears?
Betagen Topical Spray For Dogs Uses
How To Use Betagen Topical Spray For Dogs
Betagen Topical Spray For Dogs Cautions
Natural Remedies for Dog Hot Spots
Summary
Author Rating
Brand Name
Product Name
Price
Product Availability
Originally posted 2016-06-19 00:00:48.