Pro Pectalin For Dogs – Anti-Diarrheal Gel & Tablets
Pro pectalin for dogs is basically a health supplement that comes with pectin, kaolin and enterococcus faecium. The result is a healthy digestive gut with excellent poo-poo. Stress, climatic changes, switch in dietary lifestyle etc. can affect the intestinal microflora of your pet.

Pro pectalin contains equal proportion of microbial flora that promotes a healthy gut. It supports the digestive function of your dog by cutting down loose stools. This guide covers everything you need to know about Pro Pectalin For Dogs such as
What is pro pectalin for dogs
Types of pro pectalin available
Pro pectalin gel for dogs
Pro pectalin Anti-diarrheal gel/paste for dogs
Pro-pectalin anti-diarrheal tablets for dogs
Pro-pectalin anti-diarrheal powder for dogs
Pro pectalin for dogs side effects
Conclusion
What Is Pro Pectalin For Dogs
Pro pectalin for dogs is basically a health supplement that comes with pectin, kaolin and enterococcus faecium. The result is a healthy digestive gut with excellent poo-poo. Stress, climatic changes, switch in dietary lifestyle etc. can affect the intestinal microflora of your pet. These good probiotics improve the health conditions of your pet especially if your dog is exposed to stress, infections etc.
If your dog is dealing from poor immune system, frequent lethargy, loss of appetite, loose stools etc. then check with the Vet.
Studies show that enterococcus faecium is a nutritional agent that helps with diarrheal problems. Kaolin, pectin etc. work as adsorbants.
Kaolin is a type of clay that absorbs water. It is widely used to soothe any irritated intestines. It helps to eliminate any toxins produced by the pet's body during diarrhea. This will help in a firmer stool making your dog feel better. Pectin is a type of fiber that is mostly found in fruit. This is an additional adsorbant that assists in firmer stool.
DNA Tests for dogs are done for various reasons. Unlike Humans, Dog dna test can be used not only to know their parents but to find out possible diseases or problems which could affect your dog in the future. Dog dna Tests can help you care for your dog with confidence.
Dog Food today could be one of the major cause to problems. the health of a dog can be alleviated with the best of dog food. Natural and safe, Wysong is one of the best companies online to provide ,
Raw or Natural Diet for your pets
. May it be your dog, car or a horse, wysong can help
They bind with harmful toxins, bacteria in the body and are eliminated from the gut. They protect the gastrointestinal tract and support the overall system of the body.
Types Of Pro Pectalin Available
Pro pectalin is available in many forms – Gel, Tablets and Powders. Consult a Vet before trying out any remedy for your pet.

Petwellbeing Life Gold for Cancer
can slow down the symptoms. May it be after chemotherapy or even before it. If you find symptoms of Cancer in your dog, the chances are that Life gold for dogs can reduce the symptoms and help your dog get through the problems peacefully. Check out more on the petwellbeing website
If your
dog is suffering from Cushings diesease
, you can help it now with natural remedies and cures. Check out Adrenal harmony Gold, a natural cure to ease symptoms of dog cushings disease. Its a proven concoction of herbs to help your dog through the tough phase of Cushings disease
Pro Pectalin Anti-Diarrheal Gel For Dogs
Pro pectalin anti-diarrheal gel for dogs is a product from vet solutions. The ingredients of Pro pectalin are freeze-dried so as to maintain the potency. It is an oral gel that can benefit both dogs and cats. Apart from the above three key ingredients, pro pectalin anti-diarrheal gel comes with powdered sugar, silicon dioxide, soy oil etc. that enhances the flavor while administering. The chicken flavor is loved by dogs which makes it a breeze to feed the dosage.
Pro-pectalin Gel For Dogs Dosage
Administer orally pro pectalin dosage as per your vet's orders or every 8 hours.
Petwellbeing Kidney Support Gold
is known to help with dogs with kidney problems. Any UTI related problems can be solved with the New Kidney support gold. The product is Completely natural, safe and effective.
Normal dog food lack many of the nutrients which are essential to a dog. With
Spark Supplements for dogs
, you can be assured that your pet is getting all the nutrients it needs which is not possible for normal dog foods to deliver
Dogs under 10 lbs and under – 1 cc
Pooches over 31-60 lbs – 5 cc
Dogs over 61 lbs and more – 8 cc
Pro-Pectalin Gel For Dogs Side Effects
So far there have been no pro pectalin gel side effects. Nevertheless, studies are yet to be proven regarding its safety on pregnant and nursing dogs. For safety reasons, it is always best to ask the vet before trying out any new medicine.
Pro-Pectalin Anti-Diarrheal Gel For Dogs & Cats (30 cc) Reviews
There are excellent reviews about Pro-pectalin anti-diarrheal gel for dogs & cats (30 cc). Amazon users rating is 4.3 out of 5 which says a lot about its efficiency. There are other websites too that provide excellent feedback from pet owners regarding pro pectalin gel.
Pet owners claim that they had initially tried various probiotics for their pet's irritative bowel. But this one is the best. It not only heals the pet without any side effects but also enhances their overall health.
Mossfairy – "awesome product"
"I have a Boykin Spaniel who eats whatever she lays her hands on. She ends up nauseous, vomiting etc. with occasional stools. Pro-pectalin gel for dogs settles good on the stomach and is quite easy to use as well. The product is fantastic if you are dealing with simple stomach upset. P.S: If you follow the dosage, you will not notice any pro-pectalin side effects."
Amazon customer – "Great Stuff"
"I have been purchasing this product for my 14 year old Yorkie who tends to suffer from bowel upset frequently. She likes the taste of pro pectalin paste for dogs but when she is really sick I have to force it down. It coats the intestinal lining and settles them good. She is eating again."
Pro-Pectalin Anti-Diarrheal Tablets For Dogs
Pro-Pectalin tablets for dogs are formulated for pets suffering from environmental stress in their dietary life. It can put trouble in their digestive process that can affect their overall health. The beneficial microbes are freeze-dried and microencapsulated so that they remain highly potent at all times. Frequent loose stools are one of the common symptoms that can be cured with pro-pectalin anti-diarrheal tablets for dogs and cats.
Pro Pectalin Anti-Diarrheal For Dogs Dosage
Pro pectalin chewable tablets for dogs can be given every 8 hours. The dosage is one tablet per 20 lbs (i.e. 9kg) of body weight. You can administer orally either as a whole or crumble and give it during meal time. Few pet owners ask what if pro pectalin tablets overdose occurs. Do not panic. Pro pectalin for dogs are safe. If overdose occurs, the main problem might be constipation. Make sure to keep your pet well hydrated. Encourage them to drink lots of fresh water. If you still notice lack of stools or if your pet is straining hard to go, then you may have some constipation issue to handle.
Pro Pectalin Tablets For Dogs Side Effects
Pro pectalin for cats side effects are not yet known. All the ingredients are well proportionate and assist in healthy GI tract. For safety reasons it is always better to consult the Vet before trying out any new medication.
Pro Pectalin Tablets For Dogs Reviews
This antidiarrheal for cats has received mixed reviews from pet owners. A group of dog/cat owners claim that Pro pectalin tablets works just as claimed and there are not any side effects to worry about. In fact, few users claim that Vets actually consider Pro Pectalin For Dogs the best remedy to fight diarrhea.
In fact, both pet owners and pets love the product. The effect and taste give optimum relief for pets who are dealing with loose poo-poo.
The downside. Few users claim that the product does not work as claimed. They had tried as per the dosage but still did not find ayn positive impact on their dogs. Couple of users claim that though the flavor is loved by pets, the effect is still dormant.
Works well and safe for pets – Ms Chris
"The only anti-diarrhea meds that my vet considers safe for pets are the ones with pectin, kaolin etc. There used to be OTC formulas that companies seem to change them that potentially are quite harmful for animals.
My vet initiated Pro Pectalin For Dogs when pet owners like me wanted a safe product. I have used it on 2 dogs and 2 cats. All of them loved the tablets just as they were. And it works quickly as well."
A real life saver – A. Schmoll
"My vet prescribed pro-pectalin gel for my Jack Rusell who was suffering from severe diarrhea. II decided this would be a great money saver and would actually save frequent trips to the Vet. My dog was put on special diet, slippery elm and Pro-pectalin gel.
I run a boarding kennel and started using pro-pectablin tablets. It is a great product and saves a lot on cleanup as well. I need not send the dogs back home sick. My dogs are healthy. I keep it on hand for guests. I do recommend the gel for smaller animals as it is quite easier to administer."
Didn't work for our dog – Kim Mroczkowski
"Based on the high ratings, I purchased this product. It was also recommended by the Vet. We used the tablets for four full days every 8 hours as instructed. There was absolutely no change at all. Our lab has a sensitive tummy. He frequently suffers from diarrhea. So I was quite hopeful it would work. But it didn't have any effect at all."
Pro-Pectalin Anti-Diarrheal Powder For Dogs
Pro-pectalin anti-diarrheal powder for dogs and cats is a well formulated product that contains microbial flora that boosts a healthy digestive gut. The key ingredients include
Enterococcus faecium – part of normal intestinal flora
Kaolin – that soothes the irritated intestines by absorbing water and toxins
Pectin – which absorbs water delivering a much firmer faeces
Pro-pectalin anti-diarrheal powder for dogs are used to cure diarrhea that is caused by any stress, antibiotic ingestion, change in food and other non-life threatening forms of diarrhea.
These three key components tone down the inflammed intestines and get rid of any bacterial toxins. Kaolin and pectin work as adsorbants that stick with the toxic elements and push them out as faeces.
Pro Pectalin Anti-Diarrheal Powder For Dogs Dosage
Take suggested amount of powder and mix with the meal. You can even mix it with pet's drinking water. Use it once a day.
Pets under 20 lbs – 1 scoop
20-65 lbs – 2 scoops
Over 65 lbs – 3 scoops
Pro Pectalin Anti-Diarrheal Powder For Dogs Side Effects
There have been no side effects reported till now. Since the ingredients are 'earthy' and natural, they balance the digestive gut and aid in much firm stool. The result is a happy dog with a fit GI gut.
Effects of pro-pectalin anti-diarrheal tablets on pregnant or nursing dogs is yet to be studied. So if your dog is pregnant or nursing, ask the Vet before giving this product.
Pro Pectalin Anti-Diarrheal Powder For Dogs Reviews
Pro pectalin anti-diarrheal powder for dogs has received both good and bad reviews from dog owners. A general consensus says that the product works excellent and has actually saved the dogs from getting hospitalized.
A safe OTC medication, Pro-pectalin is one of the most reliable medication that is even loved by Vets and heavily recommended.
One user says – "My pup gets loose stool from time to time. The pro-pectalin is excellent and helps him. This is something that the Vet will give but at a cheaper price."
Another user says – "I have a 10 year old mutt that has both sensitive personality and tummy. Even a slight change can upset the bowels. I like the powder better than pills because I have to crush and mix with peanut butter. However, it works wonder on my dog."
On the con side, few pet owners say that the product is too expensive. You can get the same product from vet at a slightly low price. Couple of pet owners say that the packaging needs a good check as they received the package already opened. This is something that the company needs to take a look at if they want genuine customers who are looking for a better product.
Conclusion
Overall, pro pectalin for dogs is a definite try if your dog is suffering from irritable bowel. It works on cats too so you are safe to use them to alleviate any diarrheal symptoms. As always said, consult the Vet before trying any medication for safety reasons.
Summary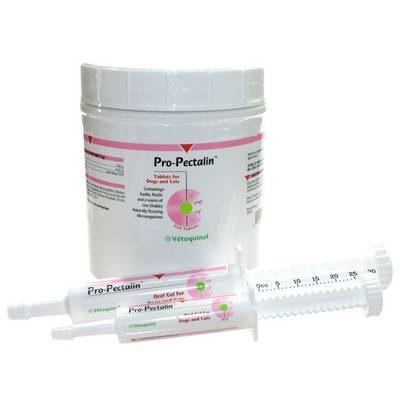 Author Rating
Brand Name
Product Name
Price
Product Availability